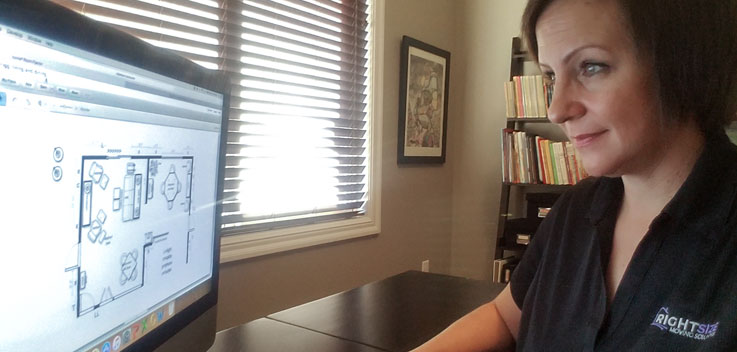 About Our Wichita, KS Moving Company
Rightsize Moving Solutions is all about working with our customers to find the best solutions for their transitional needs. Kirsten Awe created Rightsize Moving Solutions several years after working as a professional organizer in Wichita. Kirsten has a passion for helping others organize their homes and make simplify their lives. Following her work as a professional organizer, Kirsten realized how much she enjoyed working with seniors and their families. That passion grew into a multi-service business.
Kirsten and her team of Wichita movers are dedicated to guiding people through the daunting tasks of downsizing, moving, and transitioning. With a wide variety of moving packages, which include residential moves and commercial moves, we can assist you with all aspects of your relocation, from the very beginning of your transition to putting the finishing touches to your new home or business. We treat you the way we would want our family members to be treated — with dignity, respect, and kindness.
What Makes Us Different
As a customer-centered Wichita moving company, we are able to offer a multitude of services to make your transition as stress-free as possible. Our dedicated team is comprised only of employees of RSM, and they are all vetted, trained and insured. As a locally owned company, we strive to bring perfection to each job from the smallest to the largest.
Our Mission
Rightsize Moving Solution's mission is to eliminate the stress of downsizing, relocating, and moving by offering a variety of high-quality moving services.
We are committed to industry-leading customer service and care, with compassion, honesty, and integrity at the forefront of all that we do.
About The Owner
Kirsten Awe, the owner of Rightsize Moving Solutions, is a native Kansan and has lived in the Wichita area for more than 35 years. What started as a love for organizing and helping people set-up their homes led Kirsten to begin her career as a Professional Organizer. After establishing a reputation for high-quality work and a trustworthy name, the organizing business expanded into a home staging service and furniture consignment store.
Eventually, Kirsten started to specialize in working with seniors on a variety of relocation and downsizing projects and fell in love with the process of helping seniors and their families during one of the toughest times in their lives. That passion and talent, combined with the overwhelming need for an honest, reliable resource in the community, led her to launch Rightsize Moving Solutions, which has grown into a full-service moving, relocation and transition service business.
Kirsten is set apart from other Wichita, KS moving company owners by her professionalism and expertise offered in every service. Kirsten has a number of certifications and she holds membership with the following local and national professional transition and organizing organizations.
Member of the National Association of Professional Organizers (NAPO)
Certified Relocation and Transition Specialist
Certified Senior Move Specialist
Kirsten's passion and experience also flow through the entire Rightsize Moving Solutions team. Every member of the team is an employee of RMS, is passionate about what they do, and is focused on delivering the highest quality service to each and every moving and organizing project.