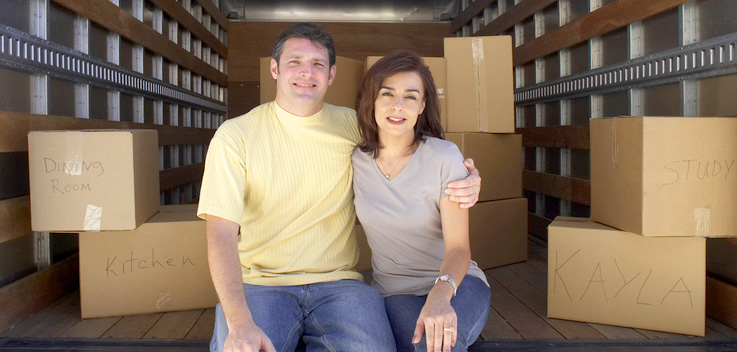 Local Movers In Wichita, KS
Though the moving truck may not need to drive very far, the local moving process is just as time-consuming as a move across the state, and there's isn't much you can do to cut corners. During a local move, you need to safely pack everything you own, load the items into the moving truck, and unload the items into the new space. To help streamline the moving process, let our Wichita moving company handle each aspect of your local move. We have the tools and the experience required to help you achieve a successful move. The movers with Rightsize Moving Solutions prioritize honesty and integrity and we ensure that your moving needs and preferences are fulfilled at each stage of the relocation. For more information about how to simplify your local move with our all-encompassing moving services, contact us today.
How To Simplify Local Moves With Professional Movers
When it comes to local residential moves and nearby commercial moves, simplicity is important. Successful moves of every type and every distance require the strategic planning of each detail within the moving process. Our local movers can help simplify your local move by helping you get rid of clutter before the move, safely loading and transporting your personal belongings, efficiently relocating your items, and even streamlining the process of senior relocations.
Clear The Clutter Before Moving
Over time, the mass of items accumulated in your home or commercial space can make difficult any type of relocation. Without professional assistance, the task of clearing out amassed clutter can seem insurmountable. One of the most opportune moments to sort through your possessions is while packing for a move. It is the perfect time to determine whether each item in the current space is suitable in the new location. The professional organizers with Rightsize Moving Solutions can provide expert assistance to help you effectively downsize in preparation for a local move. Reducing the number of belongings, or rightsizing, prior to packing can greatly reduce the amount of effort required to fulfill each aspect of the moving process.
Streamline The Moving Process
When moving across town or a few streets down, many people make more than 10 trips because it seems easier to load items into the personal vehicle than it is to hire professional movers for the task. But the time, energy, and fuel spent moving in increments, either throughout the week or over the course of multiple days, could be better spent on more important tasks and priorities. With the local movers at Rightsize Moving Solutions, your nearby relocation is both stress-free and hassle-free. We can help you reduce the amount of time required to perform each stage of the move and get the job done in a timely manner, so you can enjoy settling into your new space. Contact us to find out more about our efficient moving services.
Avoid Damage To Your Belongings
One of the most common issues during a do-it-yourself move is damage to personal belongings. But with our Wichita movers, you can rest assured in knowing that each item is handled with expert care and consideration throughout the moving process. Our movers will skilfully pack, load, transport, and unload your items in a manner that ensures safe arrival and a quicker unloading process. As experts in the moving industry, our movers are trained to lift, carry, and move heavy items and they also have the professional moving tools required to safely and efficiently move your belongings to your new home or business. We ensure that each job is performed correctly, from the initial moving stages to helping you unpack and settle into your new space.
Simplify Senior Relocations
If you are elderly and need to relocate to an assisted living facility, smaller home or a family member's house, we are here to help. Rightsize Moving Solutions specializes in a number of complete senior moving services. Our professionally trained organizers can help get rid of clutter and excess belongings, move your items, and set up your new living space without any hassle or extra steps. Our senior moving specialists can also offer assistance in helping you choose the optimal assisted living facility. With a comprehensive understanding of the difficulty involved with a senior relocation, our compassionate staff will walk you through each step of the moving process and make the local move as simple and as enjoyable as possible.
Two Tips For Local Moves
To help make your local move a breeze, our movers offer two expert moving tips. For more tips on local moves or to get an estimate for moving services in Wichita, contact us today.
Schedule a donation pickup.

You may have thought about donating some items you no longer need, but did you know that you can simply schedule a pick up of your old items? Take advantage of this service for stress-free decluttering.

Make a list. Since moving is such a stressful event, make a list of all of the things you need to get accomplished. By doing this, you can stay organized regarding all of the details of your move and never have to worry about falling behind schedule.