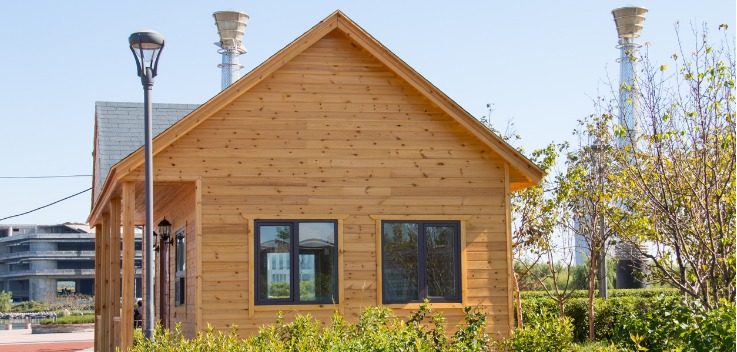 Tiny House Movers In Wichita, KS
Living in a small structure — such as a studio apartment — is nothing new. But the rising trend of homeowners foregoing large houses in favor of small spaces highlights the big benefits associated with these luxury tiny homes, some of which include convenience, low cost, easy relocation, and boosted efficiency. While large-size homes may boast more square footage, small-size homes make the dream to live luxuriously — with minimal items — a reality. The tiny house movers with Rightsize Moving Solutions are dedicated to helping make any-size living space the perfect home with rightsizing, organizing, senior relocation, and customized tiny-home moving plans. Call our Wichita moving company to schedule a consultation today.
Rightsizing For Tiny Homes
Moving into a tiny house requires strategic decluttering. While any residential move marks the ideal time to get rid items you no longer want, need, or use, moving into a tiny home requires an increased level of thoughtfulness that limits personal belongings to items that will fit and serve a purpose in the compact space. Getting rid of excess belongings should feel invigorating, but extreme downsizing can also introduce stress and indecision. Making the transition from a regular-size home to a tiny one is simple with the help of Rightsize Moving Solutions. Our rightsizing experts and professional organizers provide all-encompassing moving services specialized for tiny homes throughout the greater Wichita, KS, region.
Rightsizing Services
Moving into a smaller living space — or rightsizing — requires residents to go through all of their belongings and only keep items that will fit in their new living space. Rightsizing for small homes requires even more consideration of the size, usefulness, and purpose of each item in the new space. Because the average size of a tiny home is just under 200 square feet, paring down the items you intend to bring requires expert care. Starting with a free consultation of your current home, we gather essential moving information — such as the size of the new home and which items you want to keep — and provide you with a list of moving services tailored to your tiny house, which may include a moving plan; furniture layout; sorting and packing belongings; transporting and unloading boxes; and a strategic decorating plan.
Organizing Services
Individuals who plan to live in a tiny living space forego the option of bringing along clutter and excess, but they gain the freedom associated with living small. Once our experts help you rightsize your belongings, our professional organizers can take your transition a step further by strategically organizing your belongings into boxes based on the placement of each item in the new home. Depending on your unique small house needs, we can also help you organize items either after unloading or after unpacking. The best tiny houses are those in which every detail is leveraged for optimal functionality, multiple-usage, and practicality — let our experts help you achieve your tiny-living dream! Contact us today for more information or to schedule a consultation with a professional organizer in Wichita, KS.
Tiny House Senior Relocation
Downsizing personal belongings and home-size can be a difficult process for anyone — but it can be especially taxing while planning to relocate seniors to small homes. Our senior move specialists can help streamline the process of downsizing personal belongings and removing clutter. We also offer specialized senior moving packages with every moving service required to move a parent into a small living space, including full and partial packing and unpacking services. Our movers incorporate consideration and comfort into everything we do, so seniors are comfortable every step of the way and feel at home in their new environment. Let us help make your senior relocation simple and enjoyable.
Customized Tiny Home Moving Plans
The planning process for a tiny house move involves intricate planning and precise decision making. It involved coordinating schedules for moving, getting rid of every non-essential item, safely transporting belongings, and choosing effective item placement and organization. Most moving companies in Wichita, KS, do the bare minimum and assume that a one-size-fits-all moving approach meets everyone's needs. Rightsize Moving Solutions makes no assumptions. We take every piece of information into account to create a customized moving plan for small homes and to provide you with specialized packages for bedrooms, bathrooms, kitchens, living rooms, and more.