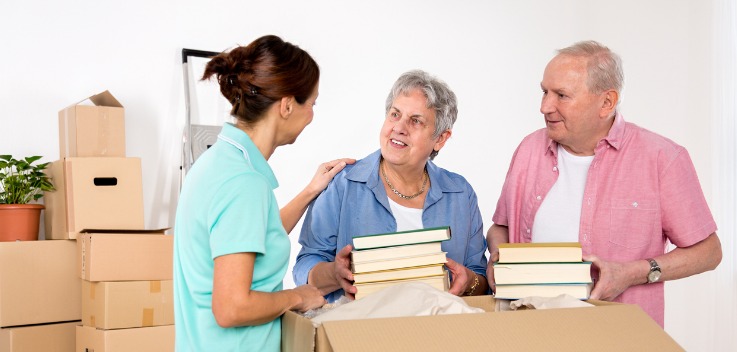 Rightsizing In Wichita, KS
If you have too many belongings to take with you to your next home, or if the thought of packing has become daunting due to the sheer number of things you own, we can help! Similar to "downsizing", rightsizing is a process that helps you get rid of items you no longer want or need. Rightsize Moving Solutions is a
Wichita moving company
founded on the principles of moving industry expertise and continuing education to provide each client with the most effective practices for rightsizing, downsizing, and
professional organizing
. Contact us today to
schedule a consultation
for rightsizing.
What Is Rightsizing?
Rightsizing is the process of making better use of your space either by removing excess material belongings from an existing space or downsizing your belongings to move into a home that better accommodates your lifestyle needs. The process of rightsizing encourages people to determine whether their daily lifestyles and environments support what they value most in life.
Rightsizing experts with Rightsize Moving Solutions can help you live more fully in your home and help you distinguish the items you value from those that contribute to a cluttered living space. We also offer rightsizing services in conjunction with a number of other moving services, for all-encompassing solutions to moves of all levels of complexity.
Rightsizing Vs. Downsizing
Rightsizing is comprised of strategic planning and consideration regarding an individual's current living environment as well as steps to optimize the use of every square inch of the living environment. Downsizing is the process of reducing the excess items within a living space for the purpose of achieving an improved and less cluttered lifestyle with fewer material possessions.
The rightsizing process incorporates the principles of downsizing — clearing clutter and getting rid of items that are unwanted, unused, and unnecessary — to meet the unique lifestyle needs of the person or persons who inhabit the living space. Contact us for more information about rightsizing and downsizing.
What Is The Rightsizing Process?
Your current home once may have been the perfect size to accommodate your needs, but as living circumstances change over time — the kids have moved out, there are more empty rooms than not or you only use one of two floors of a two-story home — so do your requirements for living comfortably. The rightsizing process begins with a free consultation and inspection of the current home. Our team will ask for information about your lifestyle needs and assist you with downsizing personal belongings to better suit your needs in the current space or in a smaller-size home.
For those who plan on relocating, our Wichita movers can assist you with each aspect of the move, from packing and unpacking to loading and unloading, and provide you with a customized list of moving services tailored to your relocation needs. This list may include any number of specialized services, including a moving plan; layout for furniture; packing materials; sorting and packing belongings; loading, transporting and unloading possessions; and decorating your new house. Contact us today for more information about our rightsizing services or to schedule a consultation.
Rightsizing For Senior Relocation
Our senior move specialists understand how difficult it can be to get rid of objects accumulated over time. We combine sympathetic sensitivity with comprehensive training in senior relocation to help you sort through your personal belongings in an efficient manner. We begin with a free consultation in the current residents to assess the situation and to determine the ideal result of the rightsizing and downsizing process. Thereafter, we provide each client with a number of different organizing services tailored to their specific situation. Each organizing package ranges in types of services offered based upon the amount of clutter in the home. We aim to encourage each client with the reassurance that they will remain in control throughout the rightsizing process, from start to finish.
Rightsizing For Tiny House Moves
Moving into tiny homes requires strategic decluttering and removal of the majority of possessions within a regular-size home. Tiny houses require a heightened degree of thoughtfulness regarding personal possessions, as space restriction of the small home only allows for items that will fit and serve purpose in the compact living space. Getting rid of the majority of the non-functional and large-size items in a living space can introduce stress and indecision. But the rightsizing experts and professional organizers with Rightsize Moving Solutions can help make simple the process of decluttering and downsizing in preparation for your move into a tiny house. We provide all-encompassing moving solutions customized to the specific requirements of tiny home owners.