Clutter can easily accumulate in a home over time. Maybe you have a china cabinet full of chipped dishes or a closet full of dated clothing — whatever your source(s) of clutter may be, it can become daunting to address when preparing for a move. But according to movers with Rightsize Moving Solutions, the best way to get rid of clutter (while making a few extra bucks) is by hosting a garage sale! Not only will unwanted items go to new homes, but you can enjoy the extra cash to put towards the move. These tips will ensure your garage sale is a success and allow you to enjoy a lighter, cleaner, and more stress-free move.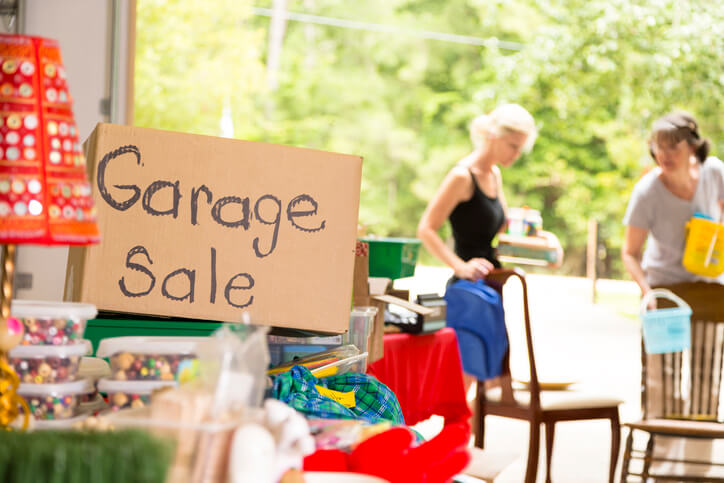 Decide On The Date
The first step in hosting a successful garage sale is to select the date and time of the event. The majority of sales such as this take place on Saturday and Sunday mornings, but moving companies also suggest hosting a multi-day affair. Having a garage sale on Friday and Saturday ensures that locals with varied schedules can visit your garage sale on one day or both days.
Gather Your Goods
Garage sales provide the perfect opportunity to declutter and downsize your personal belongings before a move. Grab a large box or bin and go through each room in your house to collect items that haven't been used in months, no longer mesh with your home or personal aesthetic, or you no longer want. Once you've accumulated a pile of items to sell, organize them into categories based on type —  such as kitchenware, tools, clothing, furniture, and so on.
Plan To Price
In terms of pricing garage sale items, consider pricing items before the sale date. Not only will it give prospective buyers an idea of what you're looking to get out of each item, but it will also serve as a starting point for potential price negotiations. This is especially useful for valuable, collectible, and antique items. For pricing less-valuable items, consider pricing based on age, use, and wear. Price new items at 50 percent of retail value, slightly-used items at 30 percent of retail value, and used items at 10 percent of retail value.
Spread The Word
Now that you've planned the details, collected your clutter, and priced the items, the last, most important step is to advertise the event. While traditional street signs are invaluable, you should also post the garage sale details online and share it with friends. Moving company Rightsize Moving Solutions recommends uploading pictures of the items to give prospective customers an idea of what to expect.
Ask For Assistance
It often takes a village to have a successful garage sale. If friends and family have planned to stop by, ask them ahead of time to help. How they're involved is up to you — passing out flyers, organizing items, or helping customers load their new treasures into a vehicle are common ways for others to pitch in!
Prepare Petty Cash
Before the day of the event, be sure to go to the bank to get plenty of change. While some people may have online money transfer applications, such as Venmo and Paypal, the majority of attendees will pay with cash. Have enough $1, $5, and $10 bills to make change for customers carrying large bills.
Keep In Mind The Benefits Of Downsizing
It's no secret that hosting a garage sale before moving can be lucrative. Another benefit to decluttering the home before packing up can also save unnecessary stress, money on moving, and leave less to pack, unpack, and organize in your new living space. But if you don't know where to start, call Rightsize Moving Solutions to speak with a professional organizer. We provide an array of services that include creating a moving plan, deciding on furniture layouts, procuring packing materials, and sorting and packing belongings. Once everything is ready to go, our team handles the loading, transporting and unloading of possessions, and can help with organizing your new home.